Turning an Empty House into a Home!
The Lake-Geauga Furniture Bank serves families who are low income, unemployed, previously homeless, single parents, and refugees/immigrants. Referrals from United Way (211), social service agencies and local churches in Lake and Geauga counties are preferred for receiving furniture and appliances. Appointments for furniture are made by calling our answering service (440.255.3051) you are then scheduled for an appointment within 1-2 weeks. Families then come to the Furniture Bank on their appointment date/time and select what is needed. Families MUST PROVIDE adequate transportation to haul their selected furniture home. A list of truck rental locations are available on request.
Typical furniture available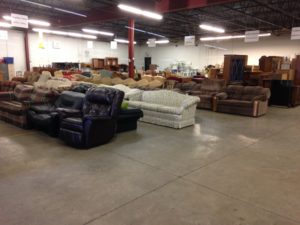 Mattresses / box springs (limit one per family)
Bed frames
Dressers (limit one per family)
Kitchen or Dining Room tables and chairs
Couches, Love Seats, Living Room chairs
End Tables and Lamps
Appliances (must be placed on waiting list)
Household and Kitchen Items
Families are allowed 3 appointments in a 2 year period to get the furniture needed.
---
Beds for Kids
One of the greatest concerns is for children who are sleeping on the floor because their parent(s) or guardian cannot afford a bed. In an effort to remedy this situation we started a special program in 2017 to provide "beds for kids".
The Lake-Geauga Furniture Bank provides special beds for younger children ages 2-9. This is a NEW bed and consists of a metal bed frame with a 6" futon style mattress. Each of these special beds cost us $52 and is currently provided to the client for $20. We are working to raise adequate funds so that these beds could be provided at no cost. YOUR donation will help us achieve this goal.